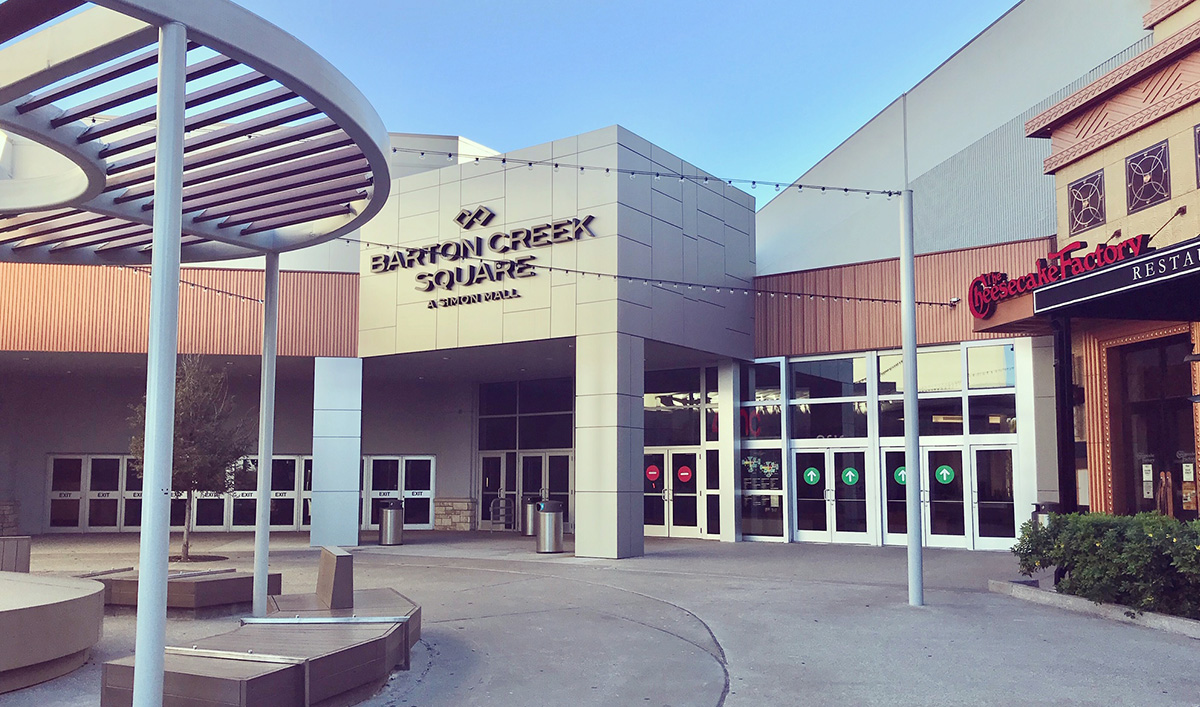 Barton Creek Square
2901 S Capital of Texas Hwy, Austin, TX 78746 P: (512) 327-7041 F: (512) 328-0923
PROPERTY OVERVIEW
THINK INSIDE
THIS BOX.
Great Space Available!

Complete this form to have us contact you about leasing opportunities.
CONTACT US
If you love shopping, you'll love shopping at Barton Creek Square with its more than 180 specialty retailers and anchor stores Dillard's, Macy's, JCPenney, and Nordstrom. Enjoy shopping at stores you know and love, like Nordstrom, The Apple Store, Aveda, Coach, Sephora, and Lululemon. Explore and discover the joy of shopping at stores you won't find anywhere else in Austin, such as Morphe, Fossil, and Vera Bradley. Take a break from shopping at one of our fine eateries, including The Cheesecake Factory, then treat the kids to a visit to Build-A-Bear and Lego.

Shop in luxury at Barton Creek Square, where you'll find limestone reminiscent tile, comfortably stylish carpeting, plush seating areas and benches throughout. And, look for some exciting new additions coming soon!


Key Tenants:
Nordstrom, Macy's, Dillard's, JCPenney, AMC Theatre
Leasing Information:
Current Property Tax Bills
0145_2021.pdf

0145_2021_L.pdf

0145_2022_L.pdf
Past Property Tax Bills
0145_2007.PDF

0145_2007_L.pdf

0145_2008.pdf

0145_2008_L.pdf

0145_2009.pdf

0145_2009_L.pdf

0145_2010.pdf

0145_2010_L.pdf

0145_2010_SA.pdf

0145_2011.pdf

0145_2011SA.pdf

0145_2011_L.pdf

0145_2011_L1.pdf

0145_2011_L3.pdf

0145_2012.pdf

0145_2012_L.pdf

0145_2012_SA.pdf

0145_2013.pdf

0145_2013_L.pdf

0145_2013_L2.pdf

0145_2013_SA.pdf

0145_2014.pdf

0145_2014_L.pdf

0145_2014_L2.pdf

0145_2014_L3.pdf

0145_2015.pdf

0145_2015_L.pdf

0145_2015_L2.pdf

0145_2015_SA.pdf

0145_2016.pdf

0145_2016_L.pdf

0145_2016_L2.pdf

0145_2016_SA.pdf

0145_2017.pdf

0145_2017_L.pdf

0145_2017_L2.pdf

0145_2017_SA.pdf

0145_2018.pdf

0145_2018_L.pdf

0145_2018_SA.pdf

0145_2019.pdf

0145_2019_0101160101000-PACE.pdf

0145_2019_L.pdf

0145_2019_L2.pdf

0145_2019_SA.pdf

0145_2020R.pdf

0145_2020_L.pdf

0145_2020_SA.pdf
Current Tenants:
Tenant Allowance Payment Guide

Property Management

Tim Hill



KEY FACTS
LOCATION
Loop 360 S. & Loop 1/NE
Closest Major Intersection
PROPERTY FACTS
Regional Mall
Property Type
1,452,087 ft2
Gross Leasable Area
100.00% Simon Owned
% Legal Ownership
1981
Year Built or Acquired
DEMOGRAPHICS
1,193,798
Trade Area Population
683,330
Total Daytime Population
469,469
Trade Area Households
$96,561 Annually
Average Household Income
Specialty Leasing
Simon offers many different leasing options. Here you'll find information about this property and who to contact to assist with your specific needs.
Specialty Leasing Lease Inquiry Form

Short-term Enterpreneurial Package (STEP)
Specialty Leasing Representative

Jason Whitley



FIND OUT MORE
LONG-TERM
LEASING
Simon offers many different leasing options. Here you'll find information about this property and who to contact to assist with your specific needs.
FIND OUT MORE
CONTACT US
Property Management:
The Property Management Team has the primary responsibility for maintaining Simon's industry leading position, by providing our customers a quality shopping experience. This includes focus on such diverse elements as: quality of service, safety, convenience, visual appeal, cleanliness and comfort. Property Management fulfills all day-to-day operational responsibilities at the properties, as well as managing operational and upgrade capital investments to insure a consistent and reliable retail product with desirable customer touchpoints.
Contact Information
Property Management

Tim Hill