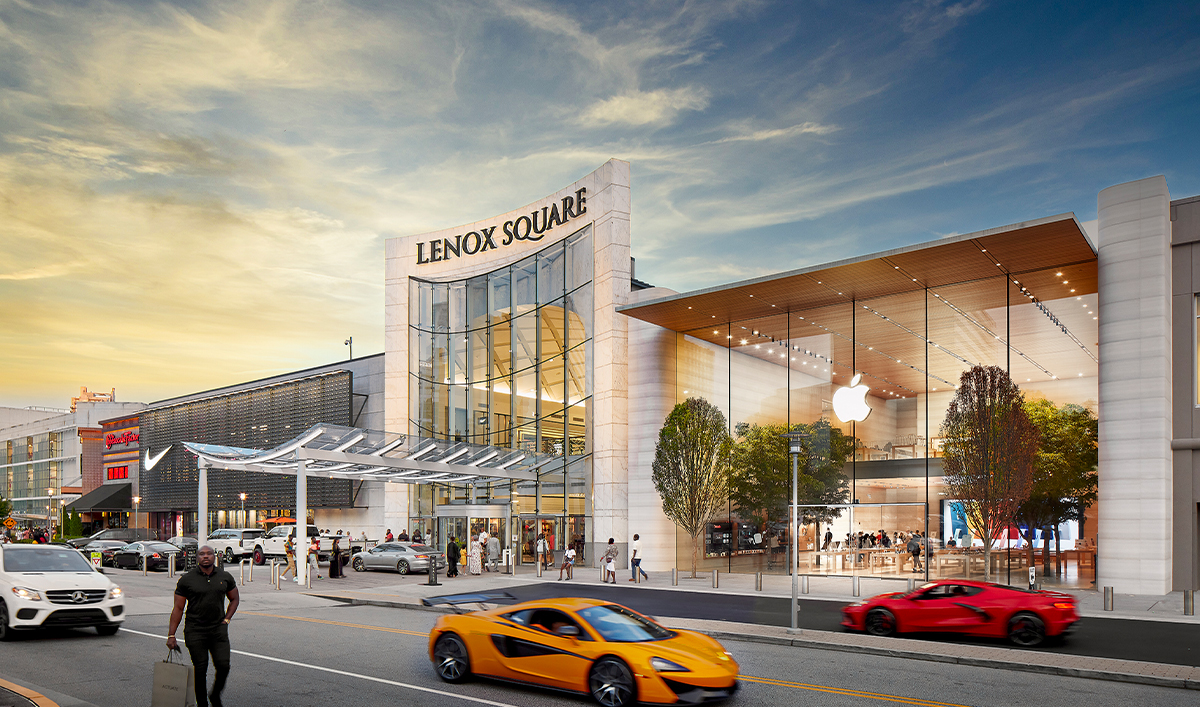 Lenox Square®
3393 Peachtree Rd NE, Atlanta, GA 30326 P: (404) 233-7575 F: (404) 233-7868
PROPERTY OVERVIEW
THINK INSIDE
THIS BOX.
Great Space Available!

Complete this form to have us contact you about leasing opportunities.
CONTACT US
Our staff cordially invites you to make Lenox Square a part of your next legendary shopping experience. We're conveniently located at the intersection of Peachtree Road and Lenox Road, just across from our sister center Phipps Plaza. The property boasts Bloomingdale's, Neiman Marcus and Macy's and features nearly 250 specialty stores like FENDI, Burberry, Cartier, David Yurman, Louis Vuitton and Apple. Experience full service dining at The Cheesecake Factory and True Food Kitchen, or enjoy a meal at one of our casual eateries like California Pizza Kitchen, Cousins Maine Lobster or Sweetgreen - maybe even grab a quick bite at one of a wide selection of specialty food shops in our Dining Pavilion.
Key Tenants:
Neiman Marcus, Bloomingdale's, Macy's
Leasing Information:
Current Property Tax Bills
4827_2019_BPT.pdf

4827_2019_L.pdf

4827_2019_L1.pdf

4827_2019_RET.pdf

4827_2020.pdf

4827_2020_L.pdf

4827_2021_L.pdf

4827_2021_L.pdf

4827_2022_L.pdf
Past Property Tax Bills
4827_18_Taxes.pdf

4827_2005_BP.pdf

4827_2006_BP.pdf

4827_2007_BP.pdf

4827_2008.pdf

4827_2008_BP.pdf

4827_2008_L.pdf

4827_2009.pdf

4827_2009_BP.pdf

4827_2009_L.pdf

4827_2009_L2.pdf

4827_2010.pdf

4827_2010_BLT.pdf

4827_2010_L.pdf

4827_2010_L3.pdf

4827_2011.pdf

4827_2011_BP.pdf

4827_2011_L.pdf

4827_2012.pdf

4827_2012_BP.pdf

4827_2012_L.pdf

4827_2013.pdf

4827_2013_BP.pdf

4827_2013_L.pdf

4827_2014.pdf

4827_2014_BP.pdf

4827_2014_L.pdf

4827_2014_SUPP.pdf

4827_2015 PP.pdf

4827_2015 RE 2.pdf

4827_2015 RE.pdf

4827_2015_BP.pdf

4827_2015_L.pdf

4827_2015_L1.pdf

4827_2015_L2.pdf

4827_2016.pdf

4827_2016_BP.pdf

4827_2016_L.pdf

4827_2016_L1.pdf

4827_2017.pdf

4827_2017_BP.pdf

4827_2017_L.pdf

4827_2017_L1.pdf

4827_2018_BP.pdf

4827_2018_L.pdf

4827_2018_L1.pdf
Current Tenants:
Tenant Allowance Payment Guide

KEY FACTS
LOCATION
Peachtree & Lenox Rd.
Closest Major Intersection
PROPERTY FACTS
Regional Mall
Property Type
1,553,502 ft2
Gross Leasable Area
100.00% Simon Owned
% Legal Ownership
1998
Year Built or Acquired
DEMOGRAPHICS
3,645,972
Trade Area Population
2,244,462
Total Daytime Population
1,392,200
Trade Area Households
$87,565 Annually
Average Household Income
LONG-TERM
LEASING
Simon offers many different leasing options. Here you'll find information about this property and who to contact to assist with your specific needs.
Big Box Leasing

Kevin Compton




Vice President of Leasing

Michelle Smart



FIND OUT MORE
CONTACT US
Property Management:
The Property Management Team has the primary responsibility for maintaining Simon's industry leading position, by providing our customers a quality shopping experience. This includes focus on such diverse elements as: quality of service, safety, convenience, visual appeal, cleanliness and comfort. Property Management fulfills all day-to-day operational responsibilities at the properties, as well as managing operational and upgrade capital investments to insure a consistent and reliable retail product with desirable customer touchpoints.