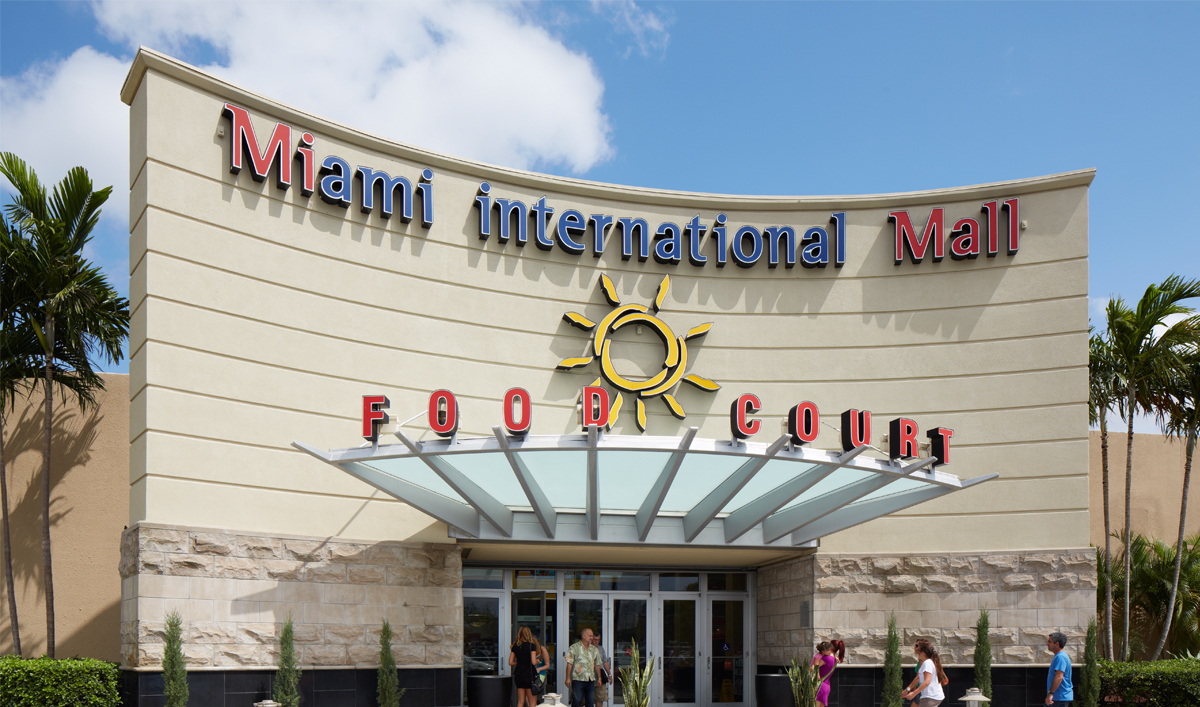 Miami International Mall
1455 NW 107th Ave, Doral, FL 33172 P: (305) 593-1777 F: (305) 591-4210
PROPERTY OVERVIEW
THINK INSIDE
THIS BOX.
Great Space Available!

Complete this form to have us contact you about leasing opportunities.
CONTACT US
Conveniently located, off SR 836 and North West 107th Avenue. Miami International Mall showcase five department stores, such as Macy's The Women's and Kid's Store, Macy's Men's and Home, JCPenney, and Kohl's.
With more than 140 specialty stores to select from you will find, Bath and Body Works, Forever 21, H& M, Mayor's Jewelers, Pandora, Victoria's Secret and ensure a perfect shopping trip. Make the trip fun for the kids with a visit to our Children's Play Area in the JCPenney mall corridor. Indulge yourself with a day of shopping, dining and fun at Miami International Mall. Don't forget to visit The Knife Restaurant and Ries Pies located in the Food Court. If you love shopping, you will love Miami International Mall!
Key Tenants:
Macy's, JCPenney, Kohl's
Leasing Information:
Current Property Tax Bills
9780_2019.pdf

9780_2019_L.pdf

9780_2019_L2pdf.pdf

9780_2020.pdf

9780_2020_L.pdf

9780_2021.pdf

9780_2021_L.pdf

9780_2022_L.pdf
Past Property Tax Bills
9780_2008.PDF

9780_2008_L.pdf

9780_2009.pdf

9780_2009_L.pdf

9780_2009_L2.pdf

9780_2010.pdf

9780_2010_L.pdf

9780_2010_L3.pdf

9780_2010_L4.pdf

9780_2010_L5.pdf

9780_2010_L6.pdf

9780_2010_L7.pdf

9780_2011.pdf

9780_2011_L.pdf

9780_2012.pdf

9780_2012_L.pdf

9780_2013.pdf

9780_2013R.pdf

9780_2013_L.pdf

9780_2014.pdf

9780_2014_L.pdf

9780_2015.pdf

9780_2015_L.pdf

9780_2015_R1.pdf

9780_2015_R2.pdf

9780_2016.pdf

9780_2016_L.pdf

9780_2017.pdf

9780_2017_L.pdf

9780_2017_R.pdf

9780_2018.pdf

9780_2018_L.pdf
Current Tenants:
Tenant Allowance Payment Guide

KEY FACTS
LOCATION
NW 107th Ave. & SR 836
Closest Major Intersection
PROPERTY FACTS
Regional Mall
Property Type
1,082,365 ft2
Gross Leasable Area
47.80% Simon Owned
% Legal Ownership
1982
Year Built or Acquired
DEMOGRAPHICS
968,739
Trade Area Population
475,572
Total Daytime Population
317,421
Trade Area Households
$67,587 Annually
Average Household Income
LONG-TERM
LEASING
Simon offers many different leasing options. Here you'll find information about this property and who to contact to assist with your specific needs.
FIND OUT MORE
CONTACT US
Property Management:
The Property Management Team has the primary responsibility for maintaining Simon's industry leading position, by providing our customers a quality shopping experience. This includes focus on such diverse elements as: quality of service, safety, convenience, visual appeal, cleanliness and comfort. Property Management fulfills all day-to-day operational responsibilities at the properties, as well as managing operational and upgrade capital investments to insure a consistent and reliable retail product with desirable customer touchpoints.