Plaza Carolina
Avenida Jesús M. Fragoso, Carolina, PR 00983 P: (787) 768-0514 F: (787) 762-0460
PROPERTY OVERVIEW
THINK INSIDE
THIS BOX.
Great Space Available!

Complete this form to have us contact you about leasing opportunities.
CONTACT US
Plaza Carolina is the second largest shopping center in Puerto Rico.  Anchored by JCPenney, it also features over 240 stores, including: Aldo Shoes, Charlotte Russe, GNC, Chili's, Journeys, La Gran Via, PacSun, Walgreens, Foot Locker and TJ Maxx, among others.  With a diverse food court satisfying the tastes of local and international shoppers alike, Plaza Carolina is an unforgettable experience.

Plaza Carolina es el segundo centro comercial más grande del Caribe. Nuestras principales tiendas por departamentos son JCPenney. También contamos con una enorme variedad de tiendas para todo los gustos. Contamos con sobre 240 tiendas entre las cuales se encuentran: Aldo Shoes, Charlotte Russe, GNC, Journey's, La Gran Vía, PacSun, Walgreens, Foot Locker y TJ Maxx entre otras. Con una diversidad de restaurantes que satisfacen el sabor de la comida local e internacional como Arrocito con..., Panda Express, Burger King, Chili's, El Mesón Sandwiches, entre otros. Plaza Carolina es una experiencia inolvidable.  
Key Tenants:
JCPenney, Tiendas Capri, Econo, Best Buy, T.J. Maxx
Leasing Information:
Current Property Tax Bills
4732_17-18.pdf

4732_2018_BP.pdf

4732_2018_L.pdf

4732_2018_L1.pdf
Past Property Tax Bills
4732_06-11_BV.pdf

4732_14-15.pdf

4732_2007-2008.pdf

4732_2007-2008_L.pdf

4732_2008-2009_L.pdf

4732_2008.pdf

4732_2009-2010.pdf

4732_2009-2010_L.pdf

4732_2010-2011.pdf

4732_2010-2011_L.pdf

4732_2010_L.pdf

4732_2010_L3.pdf

4732_2011-2012.pdf

4732_2011_L.pdf

4732_2012-2013.pdf

4732_2012-2013_1.pdf

4732_2012_BV.pdf

4732_2013-2014.pdf

4732_2013_BV.pdf

4732_2013_L.pdf

4732_2014_BV.pdf

4732_2014_L.pdf

4732_2014_L_1.pdf

4732_2014_L_3.pdf

4732_2015-2016.pdf

4732_2015_BP.pdf

4732_2015_L.pdf

4732_2016-2017.pdf

4732_2016_BP.pdf

4732_2016_L.pdf

4732_2016_L1.pdf

4732_2017_BP.pdf

4732_2017_L.pdf
Current Tenants:
Tenant Allowance Payment Guide

KEY FACTS
LOCATION
Rte 26 & State Rd 3
Closest Major Intersection
PROPERTY FACTS
Regional Mall
Property Type
1,158,121 ft2
Gross Leasable Area
100.00% Simon Owned
% Legal Ownership
2004
Year Built or Acquired
DEMOGRAPHICS
417,193
Trade Area Population
152,898
Trade Area Households
$38,000 Annually
Average Household Income
Specialty Leasing
Simon offers many different leasing options. Here you'll find information about this property and who to contact to assist with your specific needs.
Specialty Leasing Lease Inquiry Form

Short-term Enterpreneurial Package (STEP)
Short-Term Leasing Associate

Elsie Rivera



FIND OUT MORE
LONG-TERM
LEASING
Simon offers many different leasing options. Here you'll find information about this property and who to contact to assist with your specific needs.
FIND OUT MORE
CONTACT US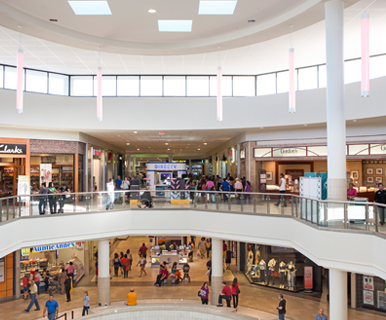 Property Management:
The Property Management Team has the primary responsibility for maintaining Simon's industry leading position, by providing our customers a quality shopping experience. This includes focus on such diverse elements as: quality of service, safety, convenience, visual appeal, cleanliness and comfort. Property Management fulfills all day-to-day operational responsibilities at the properties, as well as managing operational and upgrade capital investments to insure a consistent and reliable retail product with desirable customer touchpoints.